treehouse
---
Thursday, December 2, 1999 11:02 a.m.
Very nice treehouse site
But slow server. How does he do those moving film sprockets? For hint, click.
---
Wednesday, December 1, 1999 08:57 a.m.
Tom Sawyer
Living in a treehouse should be like drifting down the river on a raft as a fugitive from reality: a wild adventure, as in the African Queen. And Tom Sawyer is the classic river rafting story. From Chapter 13, page 138:
The raft drew beyond the middle of the river; the boys pointed her head right, and then lay on their oars. The river was not high, so there was not more than a two or three mile current. Hardly a word was said during the next three-quarters of an hour. Now the raft was passing before the distant town. Two or three glimmering lights showed where it lay, peacefully sleeping, beyond the vague vast sweep of star-gemmed water, unconscious of the tremendous event that was happening.

The Black Avenger [ed: Tom] stood still with folded arms, "looking his last" upon the scene of his former joys and his later sufferings, and wishing "she" could see him now, abroad on the wild sea, facing peril and death with dauntless heart, going to his doom with a grim smile on his lips. It was but a small strain on his imagination to remove Jackson's Island beyond eye-shot of the village, and so he "looked his last" with a broken and satisfied heart. The other pirates were looking their last, too; and they all looked so long that they came near letting the current drift them out of the range of the island. But they discovered the danger in time, and made shift to avert it.

About two o'clock in the morning the raft grounded on the bar two hundred yards above the head of the island, and they waded back and forth until they had landed their freight. Part of the little raft's belongings consisted of an old sail, and this they spread over a nook in the bushes for a tent to shelter their provisions; but they themselves would sleep in the open air in good weather, as became outlaws.
---
Tuesday, November 30, 1999 06:37 p.m.
Rant: The Treehouse game
In 1993 I bought my young nephews a game called The Treehouse - anywhere you clicked brought up another ingenious puzzle or activity. My favorite was the Theater where you selected a "Who", a "does what", a "where", and a "when". The theater drew a cartoon picture of your sentence and then animated. A cool DOS game from Broderbund, The Playroom was another.
Recently I loaded The Treehouse onto Win98. Configured and ran it: sound, but locked up. Dumbed down the setup (no Soundblaster, no ext mem.): Blue Screen of Death. MS-DOS mode: locked my PC.
Looked on the net for the answer. There is a complex FAQ and a whole book on "Running DOS Games Under Windows 95". Conclusion: need a PIF file say how to emulate DOS for the game.
Looked on the Broderbund web site. Treehouse is not a current product - the only reference is in a support FAQ. FAQ is about the Windows version, not DOS, but the answer is so typical I include it:
Details: The issue is that after playing the Treehouse program in Windows, when you exit the application, the wave volume on the computer is turned down so you can no longer hear it.

Solution: To correct this problem, located the volume controls on your computer system and turn the wave volume back to normal levels (which is usually half-way up on the sliders). If you are unsure as to where these controls are located on your system, you may want to consider contacting your sound card manufacturer for further assistance. We apologize for the inconvenience."
What about the original authors of the game, Leslie Grimm and Lynn Kirkpatrick? Maybe one of them has posted a TREEHOUSE.PIF file. I can't find Lynn, but Leslie Grimm apparently went on to co-found The Learning Company (TLC). They bought Broderbund, so now she owns her Treehouse game. According to TLC's 10K filing they started in 1978 in California (actually, I think it was in Marin County where I grew up), as Wordstar International (remember Wordstar?). After a number of mergers they acquired "The Learning Company" in 1995, and TLC merged with Mattel in May, 1999. So Mattel, can I have a PIF please.
My question: did we go backwards in game quality for a decade? The Treehouse was released in 1991 and most Windows games could not match it until recently, consuming much more PC power.
The CD-ROM Shop says they have a Windows version of The Treehouse in stock.
When I click on the BUY IT button, I get "We cannot add that title to your shopping basket. We have reorganized our web site to provide better service. Try a keyword search to find the new location of the CD-ROM." Try a search and get: "No matches for the keywords: TREEHOUSE" But there is a link to a "Learning Advantage Package" that contains The Treehouse. I can buy it along with 3 other games for $59, but it won't be released until Dec 6, 1999. Okay, I will go ahead - this has already cost way more than $59 + shipping in my time, but now I have to deal with the frustrations of net shopping as a foreigner.
---
Tuesday, November 30, 1999 10:42 a.m.
Adventureland's Treehouse
Did you know that the Swiss Family Robinson Treehouse in Adventureland (aka Disneyland) has 800,000 vinyl leaves (hand made at a cost of $1 each) and concrete "roots" that go 42 feet into the ground?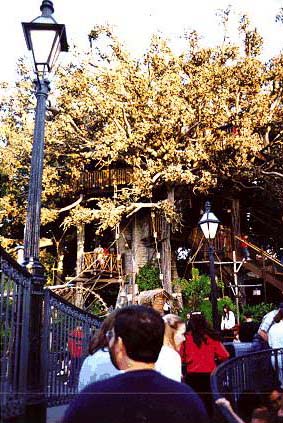 The thing I want you to remember about this treehouse is the walkways. I now realize that raised wooden walkways between "rooms" is a key element in the fantasy appeal. One of our neighbors has a 500 year old Thai house complex that he disassembled in Thailand and reassembled here. Most of the sleeping and living quarters are "upstairs" in separate pavillions that are connected by wooden walkways that span open space. Very cool. Rope bridges with wooden planks (ala Incas) would be even better.
---
Monday, November 29, 1999 02:10 p.m.
Swiss Family Robinson
They had a treehouse, a fantastic treehouse according to the movie and to Disneyland. Subconsiously, most of us probably think of their treehouse (or Tarzan's) when we think of a treehouse.
From Chapter 3 of Swiss Family Robinson by Johann David Wyss:
Jack, who was as active as a monkey, sprang up the ladder and quickly gained the top.

`Three cheers for the nest!' he exclaimed, waving his cap. `Hurrah, hurrah, hurrah for our jolly nest! What a grand house we will have up here; come along, Fritz!'

His brother was soon by his side, and with a hammer and nails secured the ladder yet more securely. I followed with an axe, and took a survey of the tree. It was admirably suited to our purpose; the branches were very strong and so closely interwoven that no beams would be required to form a flooring, but when some of the boughs were lopped and cleared away, a few planks would be quite sufficient.

... all useless boughs we lopped off, leaving a few about six feet from the floor, from which we might sling our hammocks, and others still higher, to support a temporary roof of sailcloth. My wife made fast the planks to a rope passed through the block I had fixed to the bough above us, and by this means Fritz and I hauled them up. These we arranged side by side on the foundation of boughs, so as to form a smooth solid floor, and round this platform built a bulwark of planks, and then throwing the sailcloth over the higher branches, we drew it down and firmly nailed it.

Our house was thus enclosed on three sides, for behind the great trunk protected us, while the front was left open to admit the fresh sea breeze which blew directly in. We then hauled up our hammocks and bedding and slung them from the branches we had left for that purpose. A few hours of daylight still remaining, we cleared the floor from leaves and chips, and then descended to fashion a table and a few benches from the remainder of the wood. After working like slaves all day, Fritz and I flung ourselves on the grass, while my wife arranged supper on the table we had made.
---
Sunday, November 28, 1999 03:56 p.m.
City kids build a treehouse
"We're still working on the treehouse. It needs siding, paint, and a new rail at the window. We play in it, but we're VERY careful now! One day recently we asked Mom to make popcorn. Then we invited two friends over. We went up into the treehouse and told scary stories. When it started to drizzle, the rain didn't bother us one bit. In fact, we liked it, because we stayed dry inside!"
---
Saturday, November 27, 1999 11:05 a.m.
River adventure
Do you ever buy books at remainder sales? I have been hooked on buying cheap books for years. Long ago I used to order great bargains from Marboro Books, who advertised in the NY Times: the complete works of Pushkin for $1.99!
My best buy was a 69 cents hardcover novel called A Man Could Get Killed That Way about ordinary Sherman Logan who dreams fruitlessly of exploring the river in his handmade boat. One day events propel him from his humdrum job onto the moonlite river:
It was very quiet now, and the boat made no sound. An unearthly stillness hung over the river, underlined by the drowsy ticking of crickets and a faint far-off barking of dogs...

Then he say the ghost ... a white shiny blob floating and bouncing over the sand ... "Help", it said breathlessly, looking incredibly like a platinum-blonde girl in a silvery white evening gown and matching jacket. "It's a matter of life and death" ...

"Look, it's like this," he said gruffly, "I'm an ordinary guy, minding my own business, enjoying a moonlight cruise, communing with nature, making about 3 knots ..."

"Please!" she interrupted. "I think they're coming back - if you help me I'll give you one hundred dollars, in advance."

"Being an average American," he said humorously, "I don't mind getting involved if the price is right. Have your ticket ready, please."
So begins Sherman's incredible adventure with a beautiful girl, dangerous characters, murder and a voyage of self-discovery wherein he finds that he is not so ordinary after all.
---
Friday, November 26, 1999 05:22 p.m.
Scientific treehouses
"The most basic structure in a tree can represent a castle in the clouds or a jungle hide-a-way ... Trees do not heal wounds, but seal them off and grow over old injuries. Once wounded, the tree is injured for life. Minimizing the number and depth of injuries can help a tree cope with a treehouse. Minimize the number of separate injuries inflicted, especially to the main stem. Branches are disposable compared to the trunk, and should bare the majority of any wounds. In other words, mess with the branches not the main trunk of the tree." The University of Georgia
---
Thursday, November 25, 1999 03:34 p.m.
Funhouse
The appeal of a treehouse is like the appeal of the Funhouse at San Francisco's Playland-at-the-Beach (1921-1972).
The Funhouse was packed with wild and wacky things you never experienced at home: the mirror maze, the whirling platform, the rolling tube, and the secret bursts of compressed air that lifted girls skirts. My favorite was the "slide": you climbed an endless series of steps, then zoomed down an undulating hardwood slide, grooved to a shining patina by generations of children and at least 3 stories high!
More pictures of the Funhouse.
---
Wednesday, November 24, 1999 04:03 a.m.
Even the Smithsonian Museum
From the Smithsonian Magazine:
"Many of us fall in love with tree houses as children but leave them behind when we grow up. These days, though, more and more adults are rediscovering the joys of arboreal hideaways. Tree houses are in -- and branching out."
If it is good enough for the Smithsonian, it is good enough for me.
---
Visit the Treehouse archive